You've created an awesome video and embedded your favourite song only to have YouTube throw a copyright notice at you.  As you've probably guessed, most major artists and record labels don't like you doing this.  It's illegal, to say the least, especially if you are trying to monetize your videos. 
Thankfully, there are a bunch of options for royalty free music that won't get you shut down!  From full instrumental songs to sound effects, I've found some of the best sites on the web where you can download royalty free music for use in your YouTube videos or other creations.
YouTube Audio Library
Link: http://www.youtube.com/audiolibrary/music
The most popular and obvious choice would be to use music from the YouTube official audio library.  Here, you can choose from songs that require no attribution or ones that require an attribution in your video's description. The interface is easy to use and you can sort by music style, genre, length, and more.

Vimeo Music Store
Link: http://vimeo.com/musicstore
Vimeo, another popular video hosting site also offers royalty free music for your creations.  The "Music Store" isn't just full of tracks that you can purchase, but also ones that are totally free. To find the free tracks, click the Advanced Filters link below the search button and change the license type in the search fields to "Creative Commons – Attribution Only". You can also change the Vocal Type to "instrument only" to ensure great background music without vocals.

Free Music Archive
Link: http://freemusicarchive.org
This site lets you filter royalty free music by genre and top charts. You can easily preview music and download songs instantly without needing an account.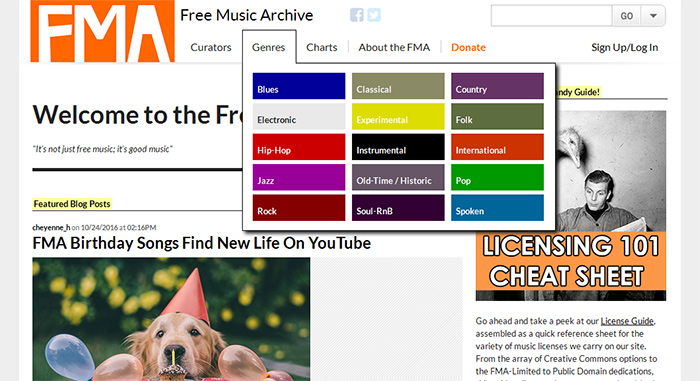 Sound Gator
Link: http://www.soundgator.com
This site specializes in sound effects. If you need certain noises or sound effects in your videos, this is a great site!  You will need a free account to download the files.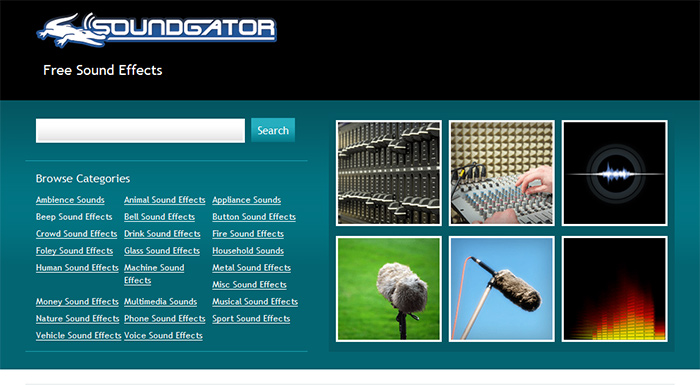 Bensound
Link: http://www.bensound.com
All of the tracks on here are released under creative commons attribution licenses, meaning you just have to insert text credit to the creator.  You can sort by genre and also have the option of getting a pro license if you need more usage options.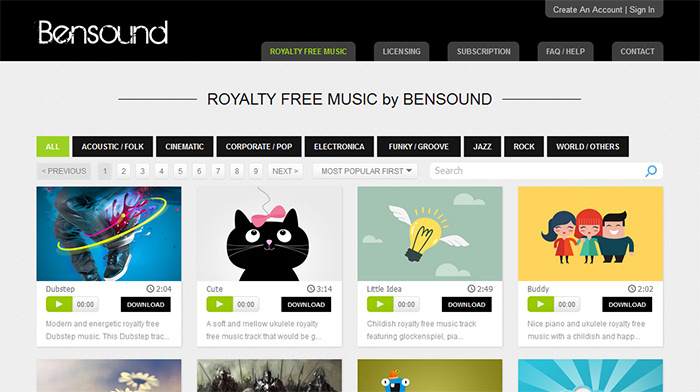 Sounds Crate
Link: http://www.soundscrate.com
This site requires a free registration and you can download up to 5 songs per day.  The difference here is that you can download the files in either WAV or MP3.  Higher quality applications usually prefer WAV files so this is a great option!
Looperman
Link: http://www.looperman.com/loops
Looperman specializes in loops, sounds, and samples. You can select from a wide range of different genres and use these loops in your YouTube videos. You'll need a free account to download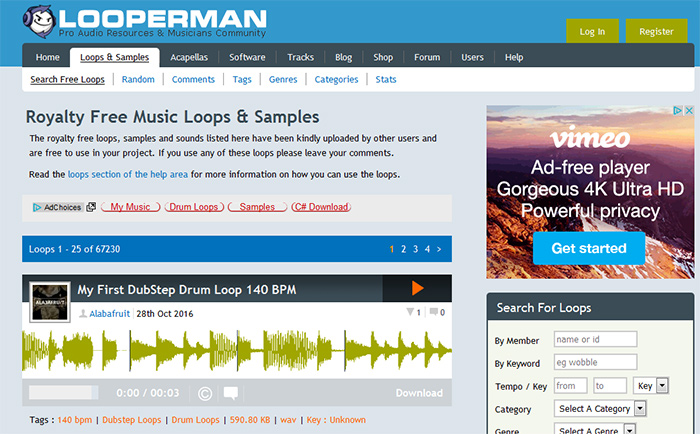 Pond5
Link: http://pond5.com
Pond5 allows you to search the world's largest database of stock video, but they also have royalty free music!  Click on the Music category on the main page.  At the bottom, choose Public Domain music. Click on the track you want and then add it to your cart (don't worry, it should be $0!).  You will need to create account to download the track.